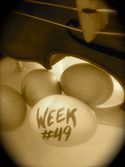 "Don't Need To Know" Week #48
                                  Words and Music by Susan Busatti Giangano
I don't know how
I don't know why
Eyes open wide with the sunrise.
Don't understand
But it's drawn in the sand
You'll see for yourself with your own eyes
CHORUS:
I... I don't need to know
I don't
I won't
I... I don't need to know
I won't. Won't make a difference, so why
Tomorrow unknown
So plan if you will
Don't know what awaits round the corner
Hold close to your heart
Standing quiet and still
Been here with you all along
CHORUS
BRIDGE
We take hold, take control
We are told what road to take
Paths that the others make
(I) see a bridge made of rope
Curiosity's calling my name
Without promises made
Though promises made seem meant to be broken
(I) try not to get in my way
Holding each each day close to my heart
wooo....
CHORUS
CHORUS
OUTRO
copyright 2012