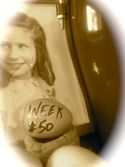 I have loved writing and working on this tune! A while back, my friend, Christina had suggested that I listen to some Bob Marley... Hmmm. Then my friend, and awesome fellow musician, Jonzie, from Kroffire Records suggested that I write a Caribbean love song when I get a chance. So, this is my
ATTEMPT to write a Caribbean love song. 
Well, at least, that was my starting point.
"Don't Ask Why"
is born out of this idea.
So, here I am with only two songs to go. I have been so excited about finishing phase one of "Teddy and Me". In fact, I couldn't wait to accomplish this awesome project!!
Now, I sit here with tears in my eyes!? "What gives?" I think to myself. I don't get it! I have an idea of what my last two songs are going to be. I'm almost there.
I've been looking forward to the next phase, so... What??? I mean, really, "What??"
I think that I am going into a kind of mourning. Could that be? This is new.
"Teddy and Me" is a huge part of me, of my life, of my thoughts and of my heart!!!
This year is a chapter of my life that is so precious and yes, it has been a life altering experience!
Wow!
Oh, and by the way, the little girl in this picture is my inspiration!
This is my mom, long before she was my mom. She is loving, smart, kind, open minded and along with everything that is extraordinary about her, I am so grateful for her never-ending support!